MEGA SERVICE Consulting is a Franco-German engineering and technology consultancy created in 2017, we operate mainly in Alsace. Our head offices, based in Colmar (Haut-Rhin) and Kehl (Germany) guarantee us proximity to our customers' industrial sites. A fast-growing company on a human scale, we are active in the following sectors:
Aerospace
Chemicals and pharmaceuticals
Heavy industry
Automotive
Banking and services
Energy
Proximity, authenticity and rigour are the three values that drive us every day.
As part of our expansion, we are looking for a trainee in human resources management to take on the role of HR Consultant / Talent Acquisition specialist.
Duties
Reporting to the HR Manager, you will be in charge of the Recruitment / Talent Acquisition activity, with the majority of recruitment being for technical profiles, but also for business and international profiles.
After a period ofon-boarding and personalised training by the managers and the HR Manager on recruitment methods and the various engineering professions, you will :
Gather requirements from managers and define the soft and hard skills expected of the candidate
Implement a sourcing strategy tailored to each position (choice of channels: job boards, social networks, etc.)
Drafting job descriptions and advertising vacancies
Participate in the development of our ATS tool in order to optimise its use
Contact candidates by telephone to establish initial contact and attract them
Conduct interviews independently, you are responsible for the quality of the assessment of the candidates (structured approach)
Follow up candidates and maintain the candidate pool (regular contact with candidates, update on projects and opportunities, project proposals)
Drawing up recruitment proposals and monitoring successful candidates: development, training, prospects, etc
Participate in the entire recruitment process, in liaison with managers
Participate in the development of the MEGA SERVICE Consulting employer brand
HR administration: expense management, personnel administration, payroll variables.
You will have the opportunity to lead one or more projects (examples of projects carried out: cooptation programme, candidate experience, recruitment performance, etc.).
Working environment
Franco-German environment
IT tools: Microsoft Office suite, computer, mobile phone
Profile
Master's degree (1 or 2) or Grande Ecole in Business / Management in the field of human resources.
You will be committed and involved, with excellent communication skills and a strong sense of rigour and priority management. You are autonomous and able to work as part of a team and make suggestions. You have excellent argumentation, presentation and writing skills.
You want to be the key to success, both through your skills and your personality,
You have a vision of your company that will enable you to enjoy both professional and personal well-being,
You want to experience a real human adventure,
Then come and meet us and join us!
Postuler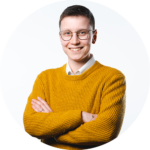 Jules Hedin
Human Resource Manager